I don't know how it happened. Honestly, I don't.
When my mom took my brother and I to see our first Star Wars movie back in the 80's, I never DREAMED I'd be married to - AS WELL AS RAISING - a Star Wars Junkie!!
Wayne and Alise are ATE UP with some Star Wars!
So much so that Wayne ordered a Darth Vader costume online that I swear is the same one in the movie!! It's got about 100 pieces to it! I told Wayne that he better hope and pray it's freezing Halloween night because he is going to BURN. UP. in that thing!!
And guess what MiniMe wants to be! Princess Leah! Yep! Fake side buns and all!! Her costume came in last week and she's in Heaven!
It's been several years since we've had Alise's class over for a Halloween party! Matter of fact, it was kindergarten (You can click here to read about that party. And I just THOUGHT that was the mother of all Halloween parties!!). But the kids loved it back then and since Wayne and Alise were so ate up with Halloween this year, we decided to have another party for her class this year! We've actually decided to invite both 4th grade classes, too (What are we thinking?) Here's what the invitations will look like - with a little more customization towards Halloween. Alise picked them out.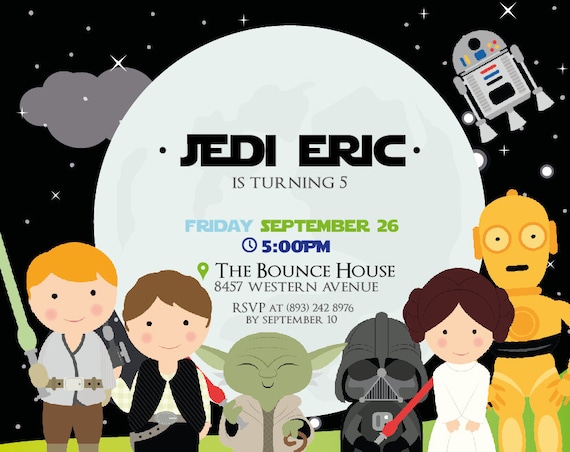 Even though the invites are Jedi and my Junkies' costumes are Jedi, the party theme is still Halloween. We're planning a bonfire to roast hot dogs and marshmallows, a flash light scavenger hunt, and a hay ride. It's gonna be GREAT!
But this Moma may have to use the Force to pull this shin-dig off!