I have a confession: I've been to our new laundromat twice this week. Our comforters, duvets, and curtains haven't been this clean in an awfully long time and it feels so good. It's been years since I've been to a laundromat and let me just say that I was very impressed with these new machines. Each trip only lasted about an hour and that's only because I double dried everything. Those 20 minute machines were awesome! Another item marked off the Covid-19 To Do List!
As I mentioned on Wednesday, we had a pretty big celebration on Tuesday night featuring our new fifteen year old. Alise wanted to keep things simple this year with a small pool party with her friends and a family dinner out on her actual birthday so that's exactly what we did! She wanted a small cookie cake and chocolate cupcakes. Alise actually dipped and decorated the strawberries herself after getting some inspiration from Pinterest. I thought she did a great job!
Baby Girl has spent her week in Driver's Ed. She hasn't been happy about getting up early (class starts at 7:30am!), but it's a rite of passage and it was her time. I told her that she would be thankful that she went ahead and got it out of the way. I'm still trying to fathom my kid being old enough to actually drive a car - by herself! - this time next year.
We realized at the restaurant, when we put the "one" and "five" candles on her cookie, that we could "repurpose" the candles in July for Wayne's birthday since he will be 51. We had a great laugh about that! I thought it was kinda neat that they were both able to use the same numbers in the same year, just in reverse.
I know I've said it before, but we are so proud of our Girl. Alise is a great kid with a heart for others and always tries to do the right thing. God is doing amazing things in her life and it has been an adventure the last fifteen years watching her grow and become the wonderful young lady that she is. Raising a daughter has been fun, and sometimes challenging, but I wouldn't change it for anything. I'm trying to savor these last three years and enjoy the moments.
Other favorites this week...
My gardenias are blooming and they are so fragrant this year. Every other day, I am cutting and bringing in new blossoms to put in the kitchen and beside my bed. Gardenias just scream summer to me!
Alise and I visited Hippie Chicks Sno Balls one afternoon. She got the Strawberry Cheesecake Sundae and I got the Ruston Peach Sno Ball. Both were absolutely perfect for a rather warm afternoon. Our days here in Louisiana are certainly heating up fast!
And yes!! That's a nice sized slice of cheesecake hanging out of that jar with the biggest strawberry I think I've ever seen!
I mentioned on Wednesday that I'm totally in to dresses this summer. Last week, I picked up this cute baby doll tee shirt dress at Target when I saw it on a rack all alone and it just happened to be a size medium. I never get that lucky, but because it was all by itself, I decided it had my name written all over it.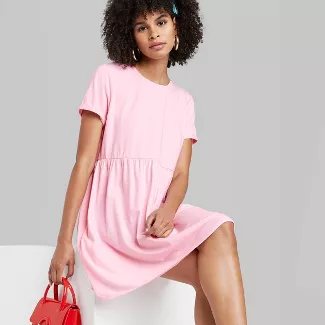 The cotton is a little thinner than I normally prefer, but it is so comfortable and perfect as a day dress. I love it and it will be on constant repeat this summer.
Have a great weekend, Friends! I'll be in and out this summer in Blog Land and social media. I'm taking a little break and continuing to enjoy our new relaxed routine. I hope you and your family have found your new rhythm of renewal as well.