If you are stopping by my blog because of this: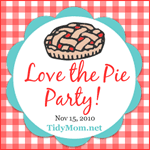 I want to send a friendly southern "Hey, Ya'll!!" your way. Thank you for stopping by my blog and visiting for a while. Please leave me a comment to let me know you were here!!
For those of you that are my "regulars," I'm sure it comes as no surprise to you that I chose something in the
chocolate family
to post as my Pie Party recipe. I can eat chocolate ANY time of the year! And this recipe is my family's favorite. It's easy and ya'll KNOW I'm all about easy!! It can also be made nearly fat free or sugar free for the diabetic in your family.

You will need:
1 Keebler pie crust (I like to use the reduced fat)
1 4-oz size of Jello chocolate pudding
3/4 cup of milk
1 container of cool whip

In a medium size bowl, mix milk and pudding mix with a wire whisk until the pudding begins to get a tad firm. Fold in 1/2 of the cool whip using a spatula or wooden spoon. Pour mixture into pie crust and chill in refrigerator for 2 hours. Garnish with remaining cool whip. I like to add chocolate chips or strawberries on top, too.

Wha-la!
How easy was that?
Now you've got something to carry to Thanksgiving dinner!