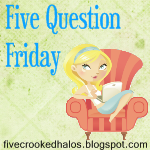 I decided to participate in "Five Question Friday" for the first time evah. After all, I don't have anything else to do except wait around on a contractor to show up! Do ya hear the bitterness?
So here goes:
1. What do you think makes a good friend, or friendship?
My best friends are the ones that have stood beside me through the good times and bad times. I don't have to worry about trying to be someone I'm not; they know the real Laura and accept my faults and still love me. "Girl Time" is fun, but I don't have to have a phone call every day (but a text is nice-ha!).

2. What is the last thing you bought and later regretted?
Hmm...a bag of M&M's?? Those tiny candies get me in alot of trouble! Especially when they're mixed with ice cream and called "A Blast."
3. Have you ever had a prank played on you?
I'm sure I have but I can't think of one right now!
4. What is your favorite Theme Park?
Magic Kingdom. Hands down. There's just something about that castle!
5. Have you ever seen someone else give birth?
About the closest I've ever seen someone in labor was my SIL when she was having my niece and it freaked me out so bad that I waited another year before I had my first child! Just seeing her fighting contractions nearly did me in!
Now I want to read YOUR answers! Be sure to
link up!